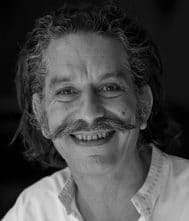 Festival Year: 2013
http://lorenzohagerman.com/
Lorenzo Hagerman
Roles: Director
Lorenzo Hagerman (Mexico City, 1969) started his career as a still photographer. In 1991 he worked as a correspondent at the start of the Yugoslav Wars. For over twenty years he has worked as a Director of Photography for documentary and fiction features.
His work as director of photography includes Amat Escalante's Heli (Cannes 2013 Best Director), for which he was also awarded the Silver Frog for Best Cinematography at Camerimage 2013 and Best Cinematography at the Stockholm International Film Festival. Other credits as DP include Rebecca Cammisa's documentary Which Way Home (2010 Oscar® nomination for Best Feature Documentary Film; EMMY nomination for Best Cinematography and EMMY Award for Outstanding Informational Programming).
Hagerman has worked extensively with television and production companies around Europe, the US and Latin-America, amongst them the BBC, ARTE, CANAL+, AL JAZEERA, ABC, the Discovery Channel and HBO.
His most recent work as DP is for Rick Alverson's Entertainment (starring Gregg Turkington, John C. Reilly and Michael Cera) which was premiered at Sundance 2015 and was the closing film for New Directors/New films at MoMa in New York.
His credits as director and editor include 0.56%, What happened to Mexico?, which premiered at IDFA in 2010 and received the Honorable Mention from the Jury at Documenta Madrid 2011 as well as the Pantalla de Cristal Mexican National TV Award for Best Editing. In 2014 Hagerman codirected (with Jose Cohen) H2Omx, which was awarded for Best Feature Documentary from the Mexican Film Academy the following year.
For the last nine years he has been teaching cinematography at Centro de Diseño Cine y Televisión University in Mexico City. He lives in Merida, Mexico, were he founded and ran the open air cinema, LA68, which was dedicated to screening and promoting independent documentary and fiction films.